Yoga can make the seemingly impossible…possible. It's pretty magical really.  It isn't so much about conforming your body to a pose found in a photograph, but discovering unseen "magic" within yourself as it expands outward into a physical expression. The art of the asana (pose) is in the many layers it can reveal to us when we are devoted to the practice. The art of a yogic practice is unveiled as we start seeing ourselves in a different way, feeling more awareness in this amazing organism that we call home, and discovering the interconnectedness of the human experience. These are concepts worth exploring and the body is the vessel that takes us there.
Regardless of its state, the body is our best tool to reach within and around us. While the mind swings between past and future, our body is always present, serving as our  border and reference point in a world that is continually fluctuating. Therefore it is important that we cultivate a healthy relationship between the mind and the body, as we journey from the skin to the soul.
At MLY we follow the path of the ancient wisdom found in the Yoga Sutras. Classes are small with the intention of allowing students to understand their practice on a deep and personal level. Our teachers are attentive and give clear individualized instruction so that students may practice at their own level of experience, offering modified or advanced  asana.
When you feel the union of physical, mental, and emotional well being that is experienced through yoga, life seems to have more possibilities and that just feels….magical.
Ctown's Fountain of Youth
Mystic Lotus Yoga can improve your quality of life…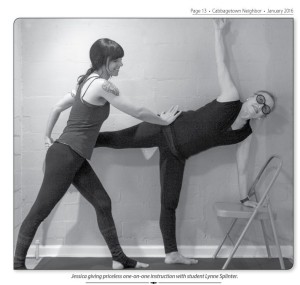 LOVE. THIS. PLACE. I'm brand new to yoga and Mystic Lotus has been nothing short of a godsend. (Or gods, since we're talking about yoga here.) I felt welcomed the moment I walked in the door to take my first ever class—the free one on Sunday. The intimidation factor wore off almost immediately with the smaller, more intimate space and the positive energy of the teacher. Every class I've taken since then has been fantastic, and every instructor has been incredible. Thank you, Jessica (and Laura and Ewa and Mary Jane)! And thank you, MLY!
Mystic Lotus Yoga is an incredibly special yoga studio. I left Atlanta for New York, and even with the totally oversaturated yoga market here, I haven't found a studio that compares to MLY. The more I explore new studios and teachers, the more I am struck by the quality of Mystic Lotus teachers – whether you want an intense workout or some deeply healing restorative classes or a technical alignment lesson, this studio has an amazing class for you. And perhaps most important, the community at this studio is fantastic – both the teachers and fellow students are so warm and welcoming. I agree with another reviewer who said this studio is "everything a yoga studio should be."
I feel fortunate to have such an exceptional studio right in my neighborhood. Every class I've taken has benefited my practice, and life, in some way. Every teacher I've practiced with makes me feel welcome and comfortable, all while pushing me to go farther in my practice. I feel blessed to practice here as often as I do. Highly recommend!!!
This place has that extra level of consciousness rarely encountered- refreshing sutra-driven mindfulness.
Wow! Such a beautiful experience! So inviting and knowledgeable and caring! I felt at home! Thanks you so much!
The best! Everything a yoga studio should be.