Jessica's primary focus is to help her students understand the more subtle aspects of their mind body connection. She uses her knowledge of anatomy and physiology to develop classes that will help to bring the body into a balance of strength and suppleness while balancing the nervous system. We experience an overall feeling of well being when our stress levels are more manageable and the family of systems that support our livelihood function better.
The renowned teacher T.K.V. Desikachar says, " The practice of yoga only requires us to act and to be attentive in our actions."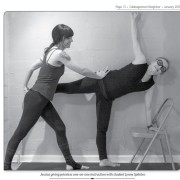 Jessica implements this idea in her teaching by using several teaching techniques. One is through the use of props. Props are very effective in supporting a pose in a way that removes some of the strain of the physical aspect so we may focus and keep the mind in balance. Props also allow us to feel reference to where we are in space by providing boundaries that support our awareness.
Props are not limitations for the weak but provide a framework to help us work stronger and more effectively.
In her classes, Jessica teaches the experience of sensations which connect us to the present moment: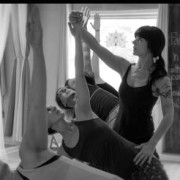 Grounding – allows a sense of security and presence of being.
Expansion – helps us to feel more space in and around ourselves bringing a feeling of lightness and joy.
Balance – helps to manage to fluctuating patterns of the world around us while feeling anchored to our center.
Rhythm – establishes a soothing harmony in our bodies calming anxious feelings and can help to lift the weight of depression.
For 16 years yoga has been an integral part of Jessica's life. It has helped her navigate physical injury, hormonal imbalances, emotional trauma, anxiety, depression, addiction, and just general life stress. She feels yoga is truly a gift to humanity. Between her practical knowledge of the beneficial aspects of yoga and her own personal experience, she teaches with equal precision to all levels. She adapts poses where the body has limitations in order for her students to feel the intended expression of the pose and she helps guide a more experienced student toward the next level of their practice.
Jessica von Schlichten, C-IAYT 500hr
Certified Yoga Therapist by the International Association of Yoga Therapy. Advanced training in Adaptive Yoga for Disability and Trauma Sensitive Yoga.
Owner of Mystic Lotus Yoga Studio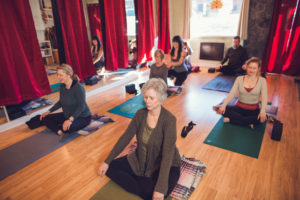 Core Restore
Thursdays at 10a & Fridays 10am
Slow Stretch
Wednesdays at 12:15p
Patience Grasshopper
Tuesdays at 7pm & Saturdays at 11am
Patience Grasshopper
An alignment based class where we examine the subtle aspects of our bodies. When we begin to look at our challenges in poses we discover how we may be compensating in our bodies to achieve the pose. Then we are presented with an opportunity to re-pose and better understand how to bring ourselves back into balance. There is a subtle line between effort and ease as we attempt to find a more holistic view of our practice which leads us into a deeper meditative state. We utilize props so we may have a practical guideline to help our mind translate what the pose reveals to us and how it relates to our practice as an individual. Props give us reference allowing us to do more yoga and often times challenging our practice further in ways we couldn't "see" before.  It is a perfect class for beginners and experienced students alike as it gives each student time to feel what the pose should feel like in their own body and how to move forward with patience and confidence.
Core Restore
In this class we explore the interconnectedness of the body as a two way street between the axial and appendicular skeleton. Bringing the core back into stability requires reintroducing awareness in the relationship between the shoulder and hip girdles. They provide the framework between our spine and our limbs. We look to balance the muscles in their strength and flexibility around this framework.  Specifically the various abdominal muscles (including the pelvic floor) and their relation to the muscles in the rest of the body as we attempt to bring the body into balance. Once we can begin to understand the basic principles of postural balance we can use our bodies in a way that supports the spine in hope of reversing the effects of working on our  feet, working at a desk, carrying a child, or just plain gravity  hanging on our shirt tails as we age.  We only get one body, so we need to make sure we care for it. Suitable for beginners.
Slow Stretch
Tight muscles can lead to a limited range of motion in our joints leaving us feeling restricted and sore in our bodies. This Yin style of supportive stretching helps bring more flexibility to our joints and our connective tissues. This brings a feeling of lightness to our bodies which can also bring a lightness to our thoughts. Poses are held for a few minutes at a time as we become more introspective. We use this time to heighten our awareness of self as we travel through the layers of skin to the soul. After all, it has been said that the "issues" lie in our tissues.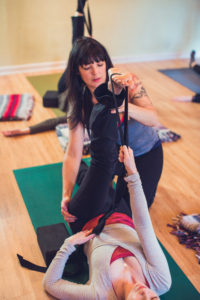 Private & Small Group Instructions
Yoga Therapy
Adaptive Yoga
Restorative Thai Bodywork
Yoga Nidra
Meditation
Yoga Therapy
Yoga designed as a deep connection to the layers of the self as a means of healing. Therapeutic yoga is taught beyond the 200hr level and involves extensive knowledge of anatomy and physiology, as well as the subtle layers of the emotional and energetic body. The yoga therapist creates a personalized practice using yogic principles as a medium to connect mind to body. A personalized practice helps you to facilitate a stronger connection with yourself and introduces you to new ways to actively participate in your journey to health and happiness.
Adaptive Yoga
Yogic teaching does not discriminate but yoga poses do. Adaptive yoga teaches the body from the inside out, instead of the outside inward. The principles of yoga regarding unity are readily applied to all people living with disability because as BKS Iyengar said, all you need to do yoga is a center of gravity and a sense of direction.
Restorative Thai Bodywork
A specialized Restorative Yoga session where the client is fully supported by bolsters and blankets. We use weight at times to calm the nervous system and reduce anxiety. Essential oils help to increase relaxation and Thai body work helps to decompress the joints giving a feeling of lightness to the whole body. As the client releases tension from the body, the mind is able to dissolve stress that may reduce our coping skills, create anxiousness and insomnia, and depress our immune system. The overall affect is a lasting one that will give you a cool, calm disposition as you move about your day
Yoga Nidra
Yoga Nidra means "yogic sleep" and is among the deepest possible states of relaxation while still maintaining full consciousness. It is in a state in which the body is systematically relaxed and by following verbal instruction, the practitioner  becomes increasingly aware of inner sensations. It has been shown to reduce tension, anxiety, PTSD, chronic pain, and many other ailments that prevent healing and repair of the mind-body connection.
Meditation
There are many ways to meditate but it sometimes seems like we are doing it wrong or we just can't seem to sit with our thoughts. We offer guided meditations as well as different methods to practice on your own. The benefits of meditation are being expanded upon every day. A simple 10-15 minutes a day can improve your mood and significantly reduce stress.